Get the most popular bird watching magazine delivered to your door and support hummingbird research.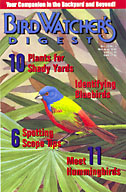 Lanny Chambers is a licensed hummingbird bander. Banding is the only way to gather accurate data about the lifespan and movements of hummingbirds, information we need to make intelligent decisions about habitat and wildlife management. Learn more about bird banding here.
Subscribe to the award-winning magazine that delivers the magic, mystery, and beauty of birds to your home, and Bird Watcher's Digest will donate 50% of the subscription price to help defray the cost of our banding research. Proceeds in excess of our expenses will be shared with other hummingbird research organizations. Everybody's a winner!
You will receive six issues per year packed with entertaining articles, beautiful photographs, helpful identification and behavior tips, and the latest how-to information on attracting, watching and gardening for birds, including hummingbirds. BWD is digest-sized so you can take it anywhere, and it is full of humor, passion and inspiration. There is no other magazine like it.


| | |
| --- | --- |
| | Click this button to help hummingbirds.net and subscribe for one year (6 issues) for $19.99 ($10.00 donated). |
New subscribers only. Canada/Mexico add $5.00 per year. Other foreign add $10.00 per year.