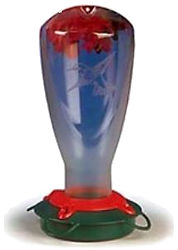 A review by Lou Hlavenka
16 oz. reservoir, also comes as a 24 and 36 oz.
Four feeding ports with perches
All plastic in four parts
Can be hung or mounted on a 1" pole
$4 and some change at Wal-Mart
I've been informed that Rubbermaid no longer makes hummingbird feeders (April 2000).
The reservoir is clear blow molded plastic with a bas relief picture of hummingbirds. I mention this as these pictures are the only difficult thing to clean. I use a baby bottle brush and everything comes clean with ease. The base consist of three parts. The red, more like dull rose, ring that has the holes through which the the hummers feed. A dark green top that twists onto the light green translucent base. The dark green and top and the red ring just click together. The reservoir has a large easy to fill and clean filler neck. The whole take apart is an easy no-tool operation. The proper ratio of sugar to water is molded into the bottom of the feeder.
I live in north central Arkansas where it is necessary to clean feeders twice a week. I find the Rubbermaids very easy to live with. In the past I had a mix of Perky-Pets and several others. When all the feeders were up the hummers went to the Perkys first. This year I got tired of the difficult cleaning and pitched the Perkys and other feeders. I now have six Rubbermaids up and the hummers love them. Feed at them, guard them and fight over them. I find no difference in the number of birds or amount of food dispensed. The feeders have no ant guard but do seem resistant to bees. The feeders are in their third season us use and show no signs to weathering or other deterioration.