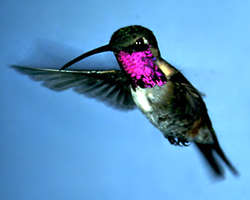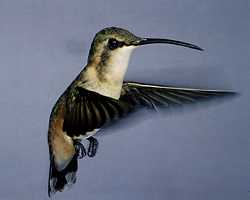 Photos © Dan True
Lucifer Hummingbird (Calothorax lucifer)
Physical Description
Average weight: male 2.75 g, female 3.08 g. Female birds are larger than males.
Plumage
Adult male: Metallic green back and crown, magenta gorget, white breast, buff sides, long decurved (downward-curving) bill.
Adult female: Green back and crown, white breast and throat, buff sides, white tips on outer tail feathers, decurved bill.
Distribution
Observed in Arizona, Louisiana, New Mexico, and Texas. Winters central Mexico.
For more information, see the USGS species account.