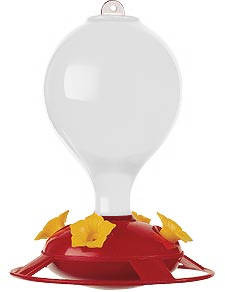 A review by Heather Lickliter
The Opus 440-12 model feeder looks somewhat Like a hot-air ballon. The picture on the box and on the Opus website has it filled with red-colored nectar, but the actual bottle part is clear. It has 4 feeding ports which seem to be designed off of the Perky-Pet's feeders because they are yellow. It has a red base and red perch circling the feeder, and hangs from a single hole in the top. I bought this in Wal-mart for $5.00.
My main issue with this feeder is it's lack of decent gravitaional design. Whoever designed this one seems to have forgotten that when liquid goes out, air must come in, or the rest of the liquid cannot go out. The bottleneck design doesn't allow any airflow in, unless the feeder is tipped on it's side, leaving the poor hummers to starve until I go outside and 'burp' the feeder, allowing more nectar into the base. This design is horribly inefficient, and anyone with more than one bird visiting would find themselves 'burping' the feeder all day long!
The second thing I don't like about this feeder is the yellow flowers. Yellow is reported to be the favorite color of wasps and bees, and this has to be true, because they found the darn thing in less than a day. Add in the fact that 'burping' the feeder results in some of the nectar coming out of the other side as you tip it (pouring on the ground), and you've got ants too!
It's not easy to clean, it's not easy to fill unless you have a funnel. The only thing I liked about this feeder was the fact that it has a perch for the poor birds to rest on.