See the March 2005 update below
The Best-1 hummingbird feeder is popular because it's cheap and easy to clean. It also offers some degree of bee resistance, at least until the bottle threads wear and leak. However, its port design poses a potential threat to hummingbirds. I have received a number of reports of birds becoming trapped, some with fatal consequences: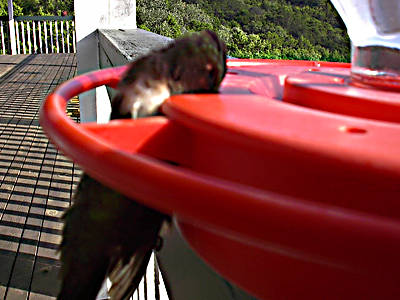 Bander and researcher Steve Bouricius describes his solution:
In my opinion, there are two problems with the Best-1 feeder port. First, the vertical feeder hole forces the bird to insert it's bill at an unnatural angle when feeding from the perch. Second, the feeder holes have an extended nipple on the underside which increases the chance of the bill becoming trapped or locked in the hole if the bird backs away or slips down from the perch. The photos below show what I did to fix the problem.

Modifying a feeder takes only a few minutes. Use a drill bit about the same diameter of the existing hole. First, from the bottom side of the feeder lid, re-drill each port hole outward at a 45 degree angle.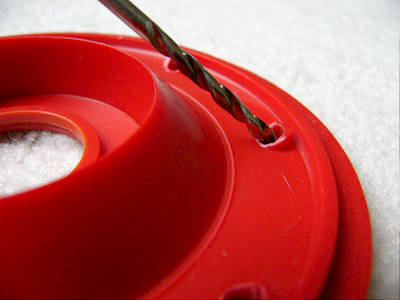 Second, cut or grind the nipple from the underside, or at least the inside portion of it. One could use a Dremel tool for the job. I don't have one so I simply used a razor blade to cut down through the nipple at a 45 degree angle.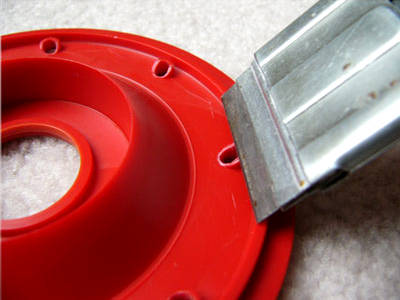 We have not seen any trapped birds, injuries, or fatalities on our Best-1 feeders since making these changes.
March 2005 - Best-1 has redesigned their lid to prevent birds from becoming trapped. The new lid is on the left: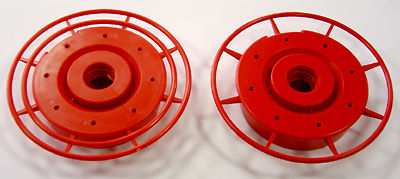 If you buy one of these new Best-1 feeders, please let me know how it works. You might also let Best-1 know you appreciate their effort, but their ports still need some work.