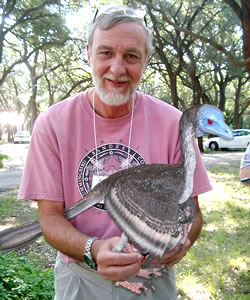 The author with his childhood pet

Lanny Chambers is a retired graphic designer and master hummingbird bander who lives near St. Louis, Missouri. Hummingbirds.net began in the summer of 1995, as a project to learn HTML in days before there were slick tutorials, or even a single book on the subject. Libraries were ransacked for hummingbird books, academic experts and professional photographers were pestered, keyboards were worn out emailing anyone who seemed to know anything about the little critters, in the quest for truth and credibility. At that time, there were no authoritative online resources about hummingbirds, or much of anything else except geeky computer stuff. Hummingbirds.net would be the first.

Migration mapping seemed like a fun thing to try. It turned out to be a lot of work, about two hours a day, every day, for three-and-a-half months each spring. It was worth it, and I was sorry when it became impractical to continue. The Ruby-throated maps have inspired a few people to track other species, which is a terrific idea that I support enthusiastically.

Hummingbirds.net was created with Dreamweaver and Fireworks. The migration maps were made by hand in Fireworks; no fancy mapping program can produce a map with readable date labels.


D e p a r t m e n t o f F i n e P r i n t :
---
ACKNOWLEDGMENTS: I am grateful to photographers Dan True, Bob Sutton, and Ed Brown for granting permission to present their definitive photos of all seventeen species of hummingbirds that breed in the U.S. and Canada. I am also indebted to the genuine hummer experts who have offered advice, encouragement, factual content, and gentle correction of my mistakes since the site went live in November 1995; any remaining errors are mine, not theirs. Finally, thanks to my co-authors, the generous hummer fanatics who have sent words and pictures to share with others.
DISCLAIMER: I do not manufacture or sell any hummingbird products. I have no financial or other interest in any of the products reviewed or mentioned on this site, except as a consumer. Certain products were sent to me by their manufacturers for review, a practice I do not encourage and one that will not guarantee favorable treatment.
COPYRIGHT: This entire web site is © 1995-2023 by Lanny Chambers, except for images and text otherwise attributed, which copyright rests with the photographer or author noted. Please do not steal the copyrighted artwork of me or any other artist represented here - when in doubt, ask permission, using the email links provided.
LINKS: Please feel free to add a link from your site to this one; you don't need to ask my permission. Please don't ask me to add a link from this site to yours unless your site has significant educational hummingbird content. See the Resources section for examples.